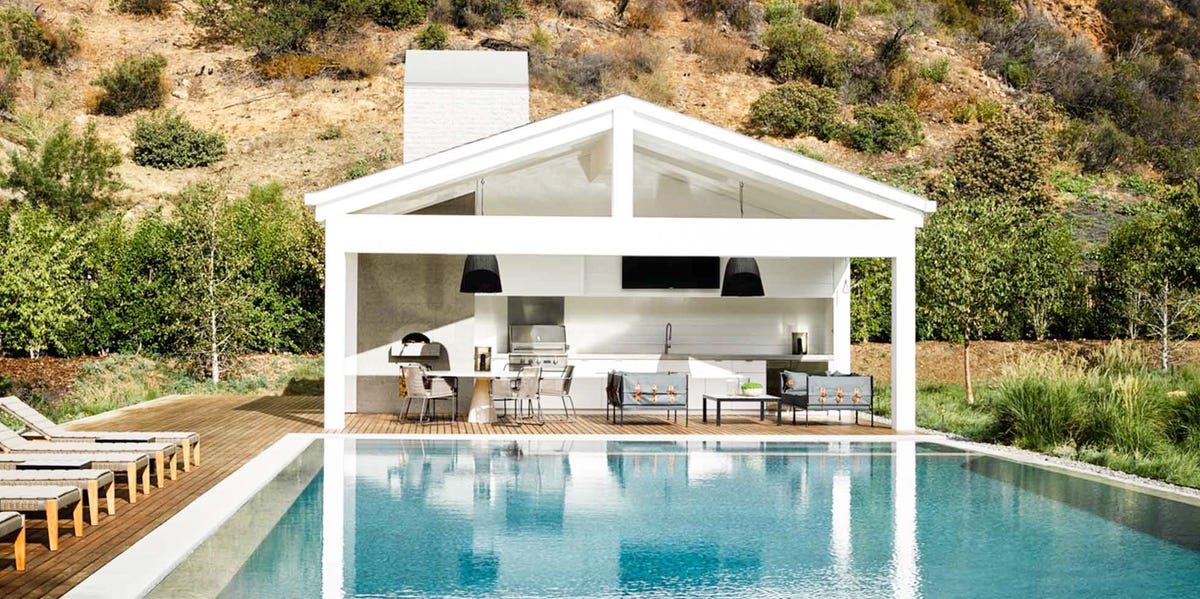 15 Outdoor Kitchen Design Ideas and Pictures
Nicole Hollis Studio Dining al fresco is only half the fun when it comes to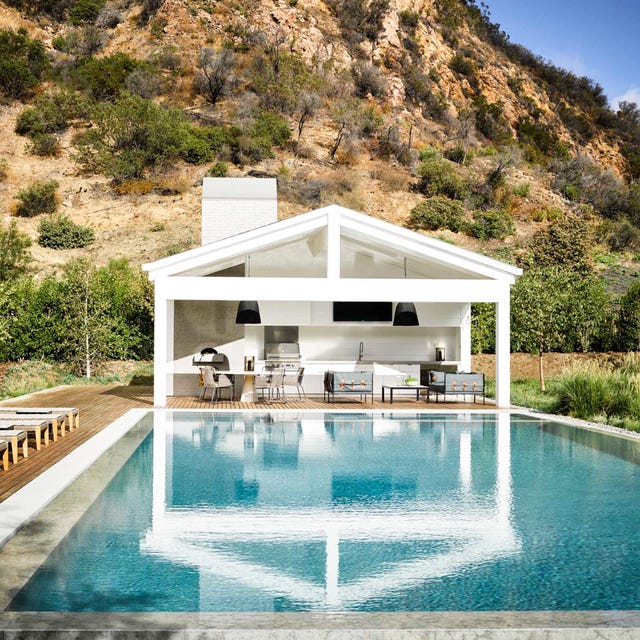 Nicole Hollis Studio
Dining al fresco is only half the fun when it comes to summer entertaining. Outdoor kitchens also make the prep work easier and infinitely more fun. Convenience aside, they can also dramatically improve your backyard or patio space. Whether you're designing your own outdoor kitchen or just want to get inspired for your future home, we rounded up 15 innovative design ideas, renovation tips, and more to suit any outdoor decor style. Get ready to pin these breezy cooking havens to your summer Pinterest board or get ready to call your contractor. And don't forget to invite us to those epic summer dinner parties you'll definitely be throwing with these outdoor kitchens on deck.
1 of 15
Think About Surroundings
Designed by Nicole Hollis Studio, this space hits the outdoor kitchen trifecta: stylish, practical, and timeless. With neutral colors, nature-inspired materials, and sleek bones, it's a lesson in both designing with restraint and prioritizing use-case without compromising style. The decking for the outdoor kitchen extends seamlessly to the poolside area for a visual appeal and cohesion as well as easier maintenance.
2 of 15
Pair Shutters and Tropical Plants
These outdoor kitchen cabinets are made from old cypress shutters. It's a look that works well for coastal or farmhouse-style spaces. Incorporate tropical plants and florals to really get in the vacation mindset.
3 of 15
Keep It Close to the House
First things first, think about convenience before you fall in love with a layout or location plan. You should scout the outdoor kitchen for convenience and think about plumbing lines and electricity. For example, this outdoor kitchen in a home designed by Jenn Feldman sits right up against the exterior of the home.
4 of 15
Channel the Italian Countryside
Instead of viewing an outdoor kitchen as adjunct, make it complete with a grill, fridge, sink, and pizza oven. A u-shaped layout helps you move from hot to cold, with the grill on the left to two refrigerator drawers and an ice maker on the right. Oh, and of course our future dream house will absolutely have a built-in pizza oven—preferably one as striking as this one designed by Nathan Turner.
5 of 15
Prep It for Entertaining
If you don't have room for a full-blown outdoor kitchen that's fully equipped with an oven, sink, etc., then just include the basics to ease entertaining and al fresco dining. In this patio area designed by Heather Hilliard, there's just a built-in grill, wine fridge, and extra storage. The living wall also sets the outdoor scene and takes advantage of the vertical space.
6 of 15
Convert Your Rooftop
When designer Laurie Blumenfeld Russo craved an outdoor space, kitchen and dining space, she had to scout out alternate locations. Think beyond (or above) the backyard and turn your rooftop into a scenic cooking spot. You won't mind working over a hot grill when you've got a view like this one,
7 of 15
Choose An Unexpected Anchor Color
A black outdoor kitchen feels sleek, sexy, and modern. To keep it from looking too formal and to let the sunshine peek through, give it a thatched roof, like this one at the Atlantic Byron Bay. Then strike design gold with an adjacent dining nook with a built-in banquet and leather butterfly chairs.
8 of 15
Use Marble and Stained Oak
A stained oak ceiling warms up stainless-steel cabinets in this outdoor kitchen designed by Bonnie Edelman. The best part? A drop-down metal gate protects appliances from rain. Then, for a more sophisticated aesthetic, add a marble island and backsplash.
9 of 15
Don't Forget a Bar
Optimize your outdoor kitchen for entertaining by making the counter feel like a real bar. Modern barstools, an eye-catching tile design, and a hidden prep counter beyond the island will do the trick. When you're entertaining, style your countertops with oversized florals, as done here for this Studio Lifestyle design.
10 of 15
Incorporate Metallic Details
If you've avoided copper for fear it'll turn green, we hear you, but there's a solution. Treat it with lacquer first and you'll stave off weathering. Then, add a runner for warmth, color, and pattern, as done in entertaining guru Lulu Powers's outdoor kitchen designed by Anna Warmoth.
11 of 15
Say Yes to Shiplap
Shiplap adds a coastal feel to this beach house kitchen. A hanging straw lantern boosts the vibe even more. Sleek black bar stools and a glossy dining table introduce a more modern touch for an interesting contrast.
12 of 15
Blend In With the Surroundings
To blend in with the natural landscape in your backyard, create a rustic kitchen oasis with wood counters and found items. Take note from this outdoor kitchen designed by Nathan Turner and instead of a modern ice chest, use a tin one like this retro-looking piece and a wooden box as a side table.
13 of 15
Pick a Fitting Theme
If you live outdoors during the summer, you want your space to be as inviting as possible. Blue hues tend to be calming, and they're also perfect for a nautical theme if you're by the beach.
14 of 15
Set Up a Dining Space Nearby
Cooking outside is even better when there's a pool nearby. And even better if there's a sophisticated dining room setup to host a swath of guests for an al fresco dinner party. And, as always, say yes to Bougainvillea. We like how this outdoor kitchen designed by Studio Lifestyle blends into the background while the florals earn the spotlight.
15 of 15
Get Creative Outdoor Kitchen Counters
If you can't splurge on a second kitchen, an extra-wide window might do the trick. As seen in this beach house bar, Kim Dempster and Erin Martin designers extended the counter from the indoor kitchen outside. It'll make passing food easier and make your house seem airier. Ahhh, that's better.
Advertisement – Continue Reading Below
This content is created and maintained by a third party, and imported onto this page to help users provide their email addresses. You may be able to find more information about this and similar content at piano.io
This commenting section is created and maintained by a third party, and imported onto this page. You may be able to find more information on their web site.