Architectural Record magazine puts Pittsfield architects Tessa Kelly and Chris Parkinson on its global 'vanguard' list | Central Berkshires
PITTSFIELD — There is a special, almost indescribable way in which the contours of our
PITTSFIELD — There is a special, almost indescribable way in which the contours of our county, whether geographical, social or otherwise, pull a person back to the Berkshires, time and time again.
Tessa Kelly and Chris Parkinson, the 37-year-old co-directors of the Pittsfield-based architecture firm Group AU, are prime examples of this effect — and also a study in how opposites attract. Kelly and Parkinson, both natives of Berkshire County, grew up just a few miles from one another — Kelly in Pittsfield, Parkinson in Williamstown — but it wasn't until after college that the two connected, first romantically and then professionally.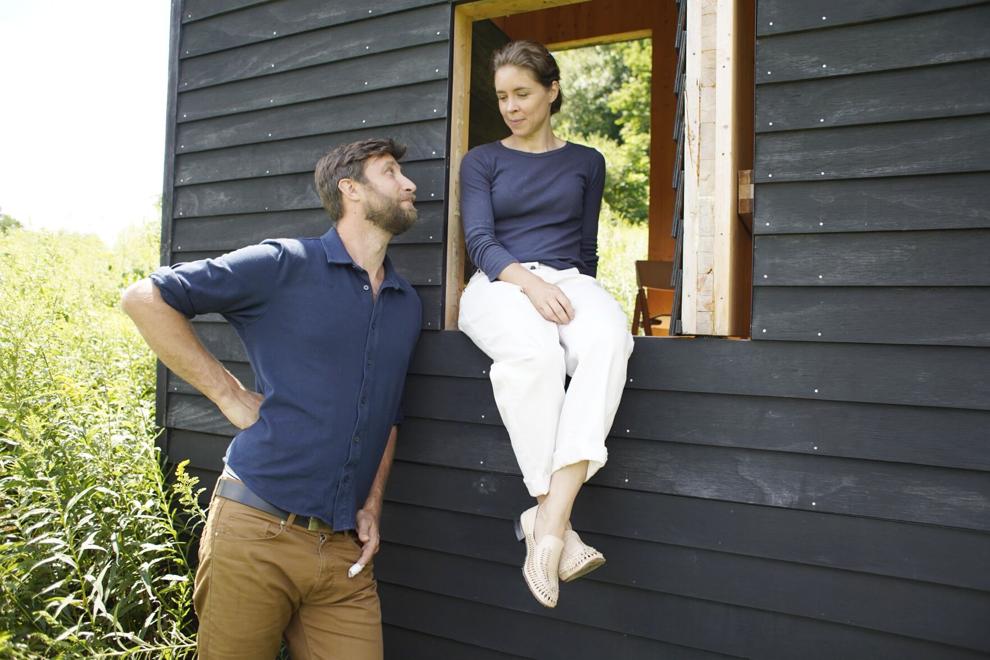 Kelly, who studied literature and art history at Williams and completed her graduate degree at the Harvard University Graduate School of Design, has always approached architecture from the perspective of language.
"When I design, I really love telling myself the story again and again," Kelly said. "If I can say it all in language, that's how I prove to myself that each step of the process is working."
Parkinson, who studied at Amherst and Yale, approaches design from another perspective.
"I never think about design through language. For me, it is a much more intuitive, aesthetically driven process," Parkinson said.
After finishing their training, Kelly and Parkinson worked independently for several years in New Haven, Conn., under the name CPTK (their initials, combined) before returning to Pittsfield and opening their own practice, then called ARCADE, in 2017. In 2021, the duo changed the name of the firm to Group AU, which stands for Group Architecture and Urbanism.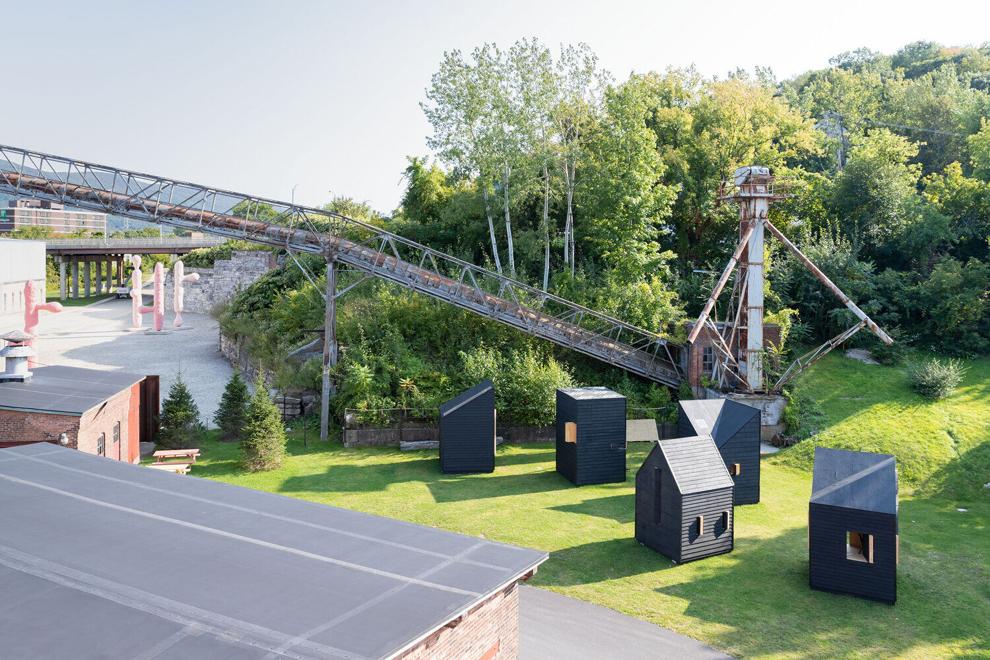 PENNING A NEW CHAPTER
The impetus for their move back to the Berkshires was The Mastheads, a self-described "public arts and humanities program" for which the duo received funding from the National Endowment for the Arts.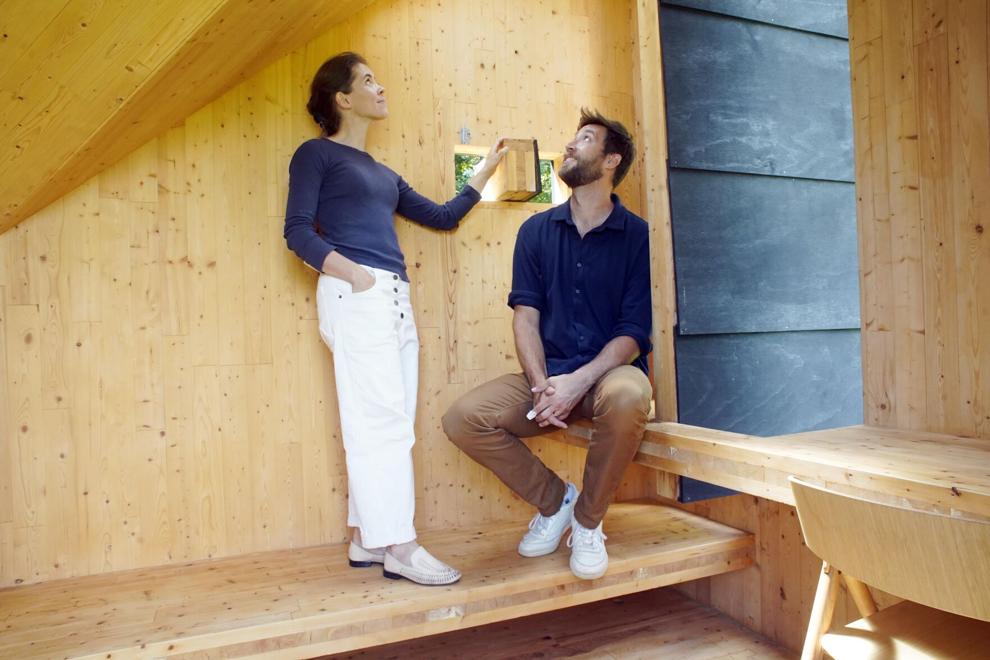 Completed in 2017, The Mastheads consists of five mobile writing studios, each inspired in design and function by a 19th century literary luminary who spent time in Pittsfield and the Berkshires: Nathaniel Hawthorne, Herman Melville, Henry Wadsworth Longfellow, Henry David Thoreau and Oliver Wendell Holmes. The structures serve as physical platforms for creating new works of art and as working spaces for resident writers; their architecture reflects fragments of the historic structures where those five luminaries completed their seminal work.
The Mastheads was the kind of project that Kelly and Parkinson had dreamed of designing, but came into focus as they moved back to the Berkshires.
Since then, whether residential or public, the architecture work that has motivated Kelly and Parkinson has always started from the perspective of understanding, on a deep level, the psychology of a place.
Today, as they gather ideas and inspiration from the communities in which they are designing, they're penning a new chapter for the built environment of Pittsfield.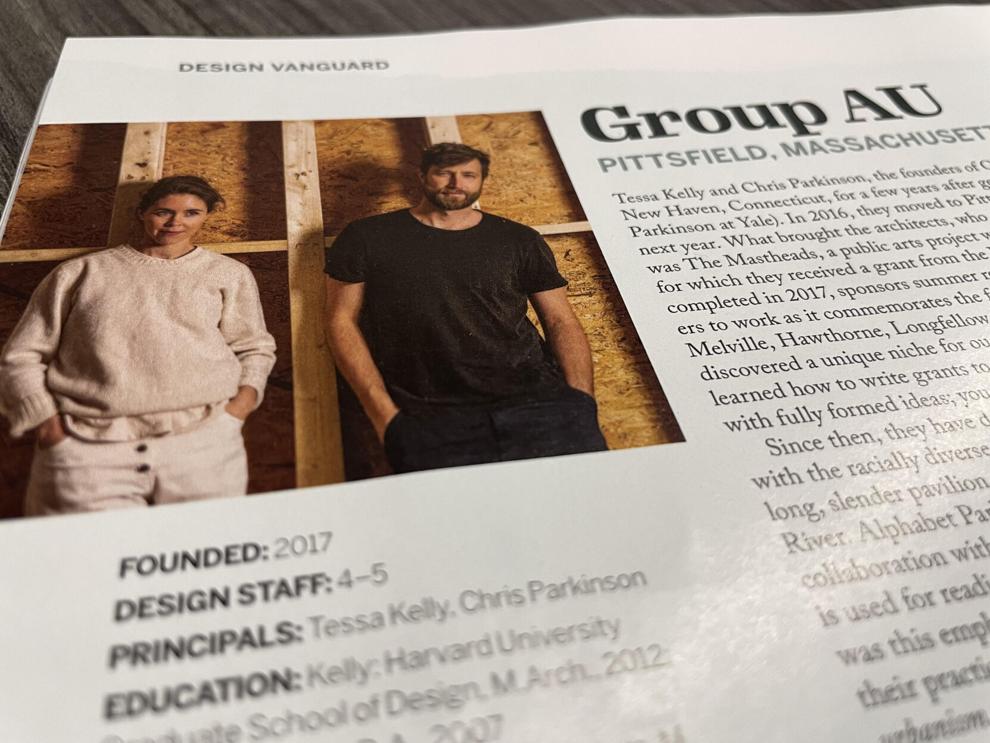 In June, Architectural Record, a prominent U.S.-based monthly magazine dedicated to architecture and design, put Group AU on its annual Design Vanguard list for 2022, an honor that put Kelly and Parkinson among a global, all-star group of emerging architects.
Over the years, Architectural Record's Design Vanguard list has included Manhattan-based SHoP Architects, which designed Brooklyn's Barclays Center, among other prominent projects in New York; Japanese group Sou Fujimoto Architects, designers of the 2013 Serpentine Gallery Pavilion; and Boston-based Merge Architects, who recently designed two multi-family housing projects on the nine-acre Cable Mills site in Williamstown.
DEEP LISTENING
Soon after the Architectural Record's "Design Vanguard" was published, I met with Kelly and Parkinson to visit two Group AU-designed parks in Pittsfield in order to learn for myself how the practice and theory of their work is altering the urban fabric of Pittsfield.
Our first stop was the Westside Riverway Park, a public project in Pittsfield's historic West Side neighborhood.
Kelly and Parkinson explained that in preparation for this project, as is their habit, they had first engaged in a process of deep listening.
"We spent a year just asking people to tell their stories about the neighborhood, to talk about the things they wanted to see more of," Kelly said. "Over time, we really zoomed in on a tradition of block parties that had gone dormant. That's when we started rallying a lot of excitement around the idea that this could be a space for cookouts, for barbecues — a space where people could congregate with their friends and family."
The two integrated input from community members to create a park that could most effectively serve the needs, motivations and aspirations of residents.
Walking the perimeter of the 2-acre park, bounded by Dewey Avenue and the Housatonic River, from the west and east, respectively, Kelly and Parkinson explained the multi-part architectural logic of the space.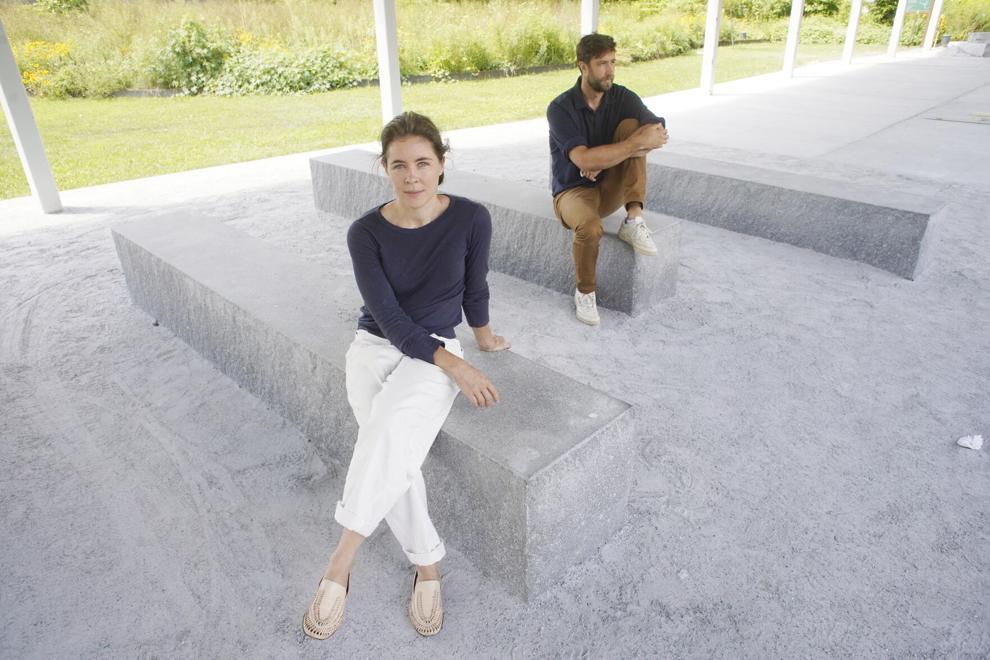 On first approach, one notices a series of sculpted seeding mounds, circumscribed by modest-yet-elegant steel edges. On the western edge of the park, separating the manicured lawn from the river, the steel edge continues, creating a boundary that separates a section of wildflower growth from the riverbank.
"Anytime you're in a landscape area," Kelly explained, "the design language that's happening is articulated by this steel edge."
The architectural space, on the other hand, an east-to-west oriented linear pavilion with a soaring pitched roof and subtle downward grade, punctuates the meandering curves of the park with a more rectilinear language.
Here, pared-back, bespeckled chunks of granite near the river's edge serve a dual purpose of decoration and function.
"For the pavilion," Parkinson said, "we wanted to work with a deliberately limited palette. As we get closer to the river, the granite takes on a more naturalistic shape."
When asked about the challenges and rewards of doing this type of design work here, at this moment in time, the duo told me they see themselves playing a unique role in the post-pandemic re-imagination of Pittsfield's public spaces. An important aspect of that work, they explained, is being able to collaborate with local groups who share Group AU's interest in uniting the social and ecological goals of Pittsfield's communities.
"We're always learning," said Kelly. "When people can retell the story of why a space is the way it is, it creates a sense of communal ownership over the design."
One local collaborator in these conversations was the Westside Legends, with whom Kelly and Parkinson have generated a strong partnership. "Gathering context for the creation of these spaces is where the joys and unexpected connections of our job come from — it's a rich way to be an architect when you're embedded deeply in the place where you work," Kelly said.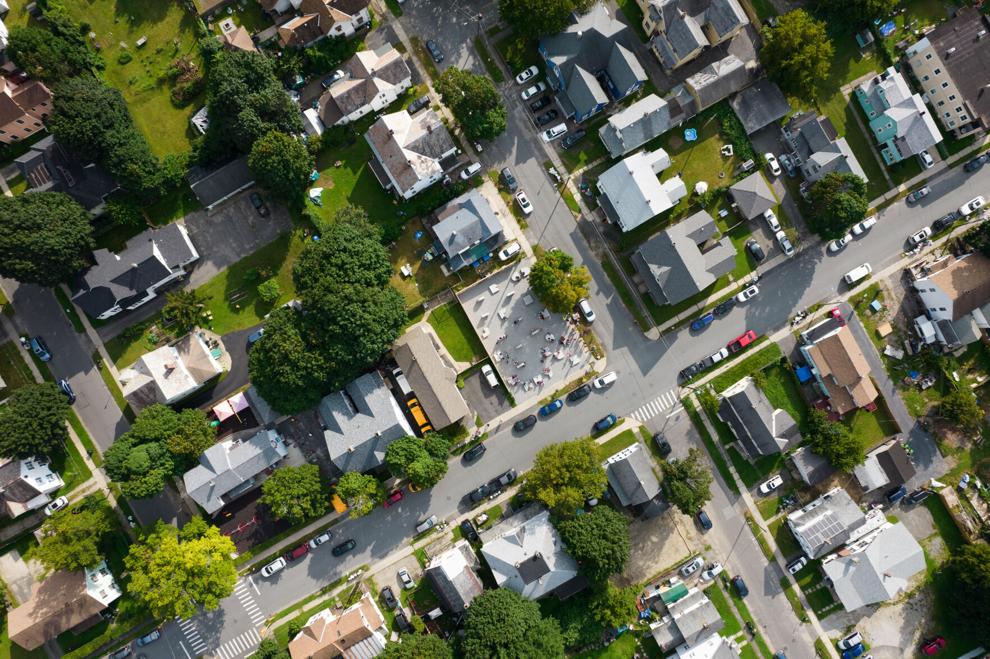 KELLOGG PARK
Our second stop was Kellogg Park — affectionately known by many as "Alphabet Park," a project in Pittsfield's Morningside neighborhood. Perched on a sculpted block that resembled an abstract version of the letter "B," Kelly and Parkinson told me about their collaboration with Mill Town Capital, a major investor in the project, and Unistress, the Pittsfield-based construction and manufacturing company that cast the concrete structures which make up the 26 letters of the alphabet (one of which I was sitting on).
Kellogg Park is named for Veronica and Kenneth Kellogg, grandparents of Mill Capital founder Dave Mixer and once-owners of the property where the park now sits. In the construction of this "pocket park," Kelly and Parkinson once again relied on community input for guidance on creating a space that responds to the wants and needs of its most relevant audience.
"We wanted to figure out a way to make the design of this park feel like it was informed very specifically by some story about the immediate neighborhood," Kelly said.
During their interactions with students, teachers and administrators at the Morningside Community School, the idea of a literary park emerged: an educational and architectural space designed to inspire not only literary, but spatial and mathematical learning, for people of all ages.
Our interview concluded when it was time for Kelly and Parkinson to pick up their kids from their parents' house.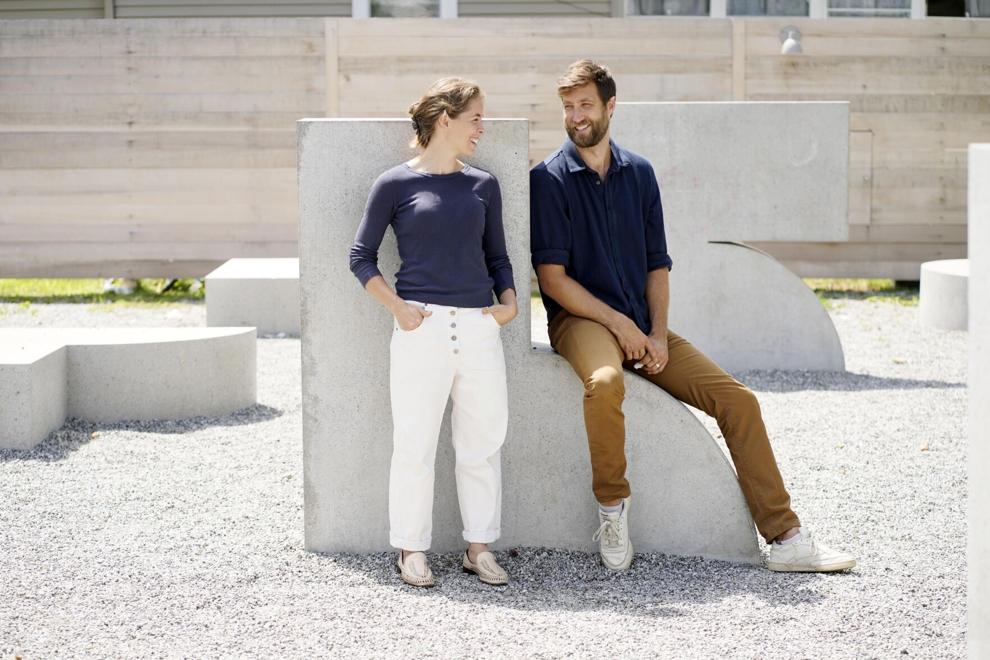 As colleagues and as parents, the couple is clear about their priorities.
"There's a default architecture behavior that I have always seen," Kelly said, "that you'll always be willing to sacrifice your quality of life for the sake of an architecture project. We bring our kids to school at 8:30 and pick them up at 4:30."
Driving home up Route 7, I reflected on the vitality of these two parks and the ways they reflect and respond to the parts of Pittsfield to which they belong. I thought about the special power (and responsibility) inherent in being architects who are truly from the place where they work.
This, perhaps more than anything else, is what makes Kelly and Parkinson "vanguards" of design: They have skin in the game in the world they are transforming. Their design process reflects their commitment to using that connection to strengthen Pittsfield's communities.
With every local project that they take on and every plan they propose, Kelly and Parkinson are not simply responding to a design brief. They're reimagining the future of a city that they know and love, and changing the possibilities of what it means to live in Pittsfield.