BOBST Dedicated Retrofit & Upgrade Projects Help Chiyoda Europa to Consolidate their Leading Position in the Decorative Print Market
Overview of the BOBST gravure printing press in Chiyoda Europa NV production plant BOBST and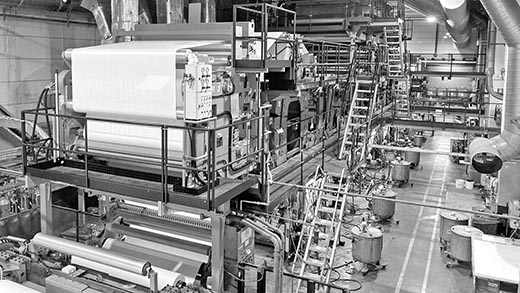 Overview of the BOBST gravure printing press in Chiyoda Europa NV production plant
BOBST and Chiyoda Europa enjoy a longstanding relationship in the field of decorative printing. Their latest collaboration is focused on two large scale R&D retrofit and upgrade projects for two of Chiyoda's installed gravure printing presses
Established in Genk, Belgium, Chiyoda Europa NV, part of Japan-headquartered Chiyoda Gravure Corporation, specializes in the manufacture of premium decors and printed flexible materials that can be used for a wide range of decorative applications and are suitable for a variety of technical carriers. These include laminated floors, wall and ceiling panels, worktops and other applications for the furniture and interior/outdoor decoration industries.
Chiyoda Europa masters the full production process in-house: It develops the substrates' designs, has gravure cylinder engraving and ink production facilities, and a production hall equipped with seven gravure printing lines, all supplied by BOBST.
Gravure printing is the technology of choice for production of high-end decorative applications because it can meet the applications' specific requirements. These include wide printing widths, highly sensitive drying systems specifically designed for handling substrates that can range from thin paper to PVC films, highest printing quality, and sophisticated inking systems for optimal process consistency.
In 2021, BOBST completed the first of two projects: the retrofitting of one of Chiyoda Europa's gravure printing presses. The project consisted of bringing the press up to date in terms of automation and motorization, and making it more reliable and efficient, curbing downtime and maintaining it at the peak of productivity. The complete overhaul involved the replacement of a number of machine components, including all motors and drive systems of web handling. It also involved the addition of a pre-conditioning group composed of four drums, with the aim of flattening and stabilizing the film of PVC, the latter being an upgrade aimed at ensuring the final product quality is always the best.
"We are very satisfied with the way the BOBST team brought this project to a successful completion according to schedule," commented Guy Lambrichts and Kris Reynders, Maintenance Managers, Chiyoda. "This was not a foregone conclusion, given the added challenges of installing the new parts in the limited space available, and without increasing machine downtime and costs."
The outcome of this project and the longstanding collaboration between the two companies in this specialized field of the printing industry spurred confidence over a second R&D project, this time focused on enabling the press to handle new types of finishing of the final product.
Printed substrates for decorative applications come in a multitude of designs: from reproduction of wood, stone, or fabric, to abstract designs. This, along with their durability, cost effectiveness and design originality, makes them popular as alternatives to more conventional décor materials like veneer.
"As a converter, we must have the capability of fulfilling the changing marked requirements stemming from the increase in design varieties, their complexity, and types of substrates, while preserving the efficiency of our operation and the quality of our production," explained Brittany Laing, PhD, R&D Project Engineer at Chiyoda. "To do that, we need to add new processes and extend the technical capabilities of our equipment as and when required, to make sure we can satisfy all of our clients' new product specification and applications."
This is the reason why Chiyoda and BOBST also worked on a technological update project for paper and PVC that was completed early in 2022 on another BOBST gravure printing line installed in Chiyoda Europa's production facility in Genk.
It was a project that was run on two parallel R&D tracks by BOBST and Chiyoda, which came together to build a solution that involves the development of a UV lacquering and varnishing unit built to fulfill Chiyoda final product specifications of high grammage coating, inline in the gravure press.
The Retrofit & Upgrade team at Bobst Italia, in San Giorgio Monferrato, Italy, was excited about the scope of this project that related to a large web width machine – 2300 mm – which is typical of decorative printing applications. This requires dedicated technical adaptations, such as calibrating the temperature on the web during UV curing in such a way to prevent any web elongation or distortion that would impact the quality of the output.
Instrumental to the timely completion of the project and to its success was the possibility to test and verify the quality and efficiency of it at each stage of its R&D development in the Competence Center and inhouse laboratory of Bobst Italia, in Italy. The Competence Center, which is BOBST's Center of Excellence for gravure, laminating and coating technology, houses gravure printing lines, laminators as well as a production scale pilot coating line equipped with nine different coating systems.
" This has been a challenging project but at BOBST we thrive on challenges, and we know by our experience of working alongside the Chiyoda Europa R&D and technical team, that together we could make a success of it," concluded Massimo Buttiero, Upgrade & Retrofit Sales Manager, Bobst Italia.