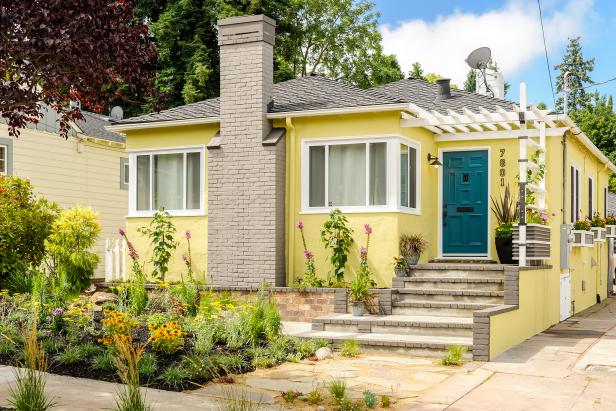 Curb Appeal Makeovers – 40 Before and After Photos
Before: Dark and Drab After: A Vision in White Before: Updates Needed After: Contemporary Home
After: Contemporary Home With a View
After: Polished Tropical Look
Before: Oceanside Dated Facade
After: Vibrant Tropical Beach Villa
Before: Charming Cottage Lacking Upkeep
After: Lovely Home With Historic Color Palette
Before: Drab and Dismal Exterior
After: Fabulous Front Yard
Before: Deserted Home Lacks Appeal
Before: Unwelcoming Front Entrance
After: Mountain Getaway Nestled in the Woods
Before: Farmhouse Lacks Charm
After: Rustic Curb Appeal is Eye-Catching
Before: Overlooked Home Lacks Charm
After: Small Updates Make a Big Difference
After: Remarkably Restored
After: Welcoming Seaside Escape
Before: Plain Jane
With overgrown landscaping and a disappear-into-the-background white paint color, this California bungalow was generally considered one of the least attractive homes on the block. Narrow, winding stairs and an overgrown trumpet vine and small tree that block the front door add to the home's uncared-for look.
Before: Can't See the House for the Trees
After: Italianate Charmer
After: It's Easy Being Green
Before: Yep, That's a Barn
After: The Famous 'Barndominium'
Before: Ready for a Refresh
After: Ready for the Next 100 Years
Before: Overgrown Adobe
The black sheep of the street, this small Spanish Colonial Revival-style home built in the 1920s, is a rarity in suburban Atlanta. It has the potential to be a real gem in the neighborhood but with a barren yard, overgrown arbor and faded stucco, it only stands out for its rundown appearance.
After: Spanish-Style Standout
Before: Not-so-Mellow Yellow
After: A (Great!) Case of the Blues
Before: The Neighborhood Eyesore
After: The Neighborhood All-Star
Before: Due for Demolition
Before: Too Much of a Good Thing
After: Stucco for the Save
Before: Blank Slate
The homeowners bought this home two years ago but with three young boys — two with special needs — all of their energy and finances go toward the kids, leaving nothing for fixing up the front yard.
Before: Hidden Gem
Overgrown vegetation, ramshackle wood siding and a dangerous looking front porch combine to give this rambling Texas ranch a haunted house appearance. 
After: Ranch-Style Standout
Before: Faded Belle
The homeowners are two of the French Quarter's most colorful characters but their home's vanilla facade is definitely lacking. A tumble of weeds fill the beds that line the porch and the concrete set-back, or small area that separates the home from the sidewalk, is broken and unlevel.
After: Big Style in the Big Easy
Before: An Architectural Mismatch
After: An Artful Addition
Before: Overgrown Bachelor Pad
Fifteen years as home base to a bachelor with no time or interest in lawn maintenance has resulted in a front yard so overgrown that a family of deer once moved in and took up residence. Now married, the young California couple who own this home are ready to clean up their act but don't know where to begin.
After: Manicured Zen Garden
Before: Forgotten Front Yard
After: Mid-Mod, Made-Over
Before: Bland and Boring
With a tiny front yard and style-less facade, this clapboard house in Atlanta, Georgia doesn't have much going for it.
Before: Hiding in Plain Sight
Evergreens are great for year-round color in your landscape but unless you plan to consistently keep them trimmed, they can grow too large to work as foundation plants.
Before: Dark and Forboding
Recessed doorways are great because your entry is protected from the weather — but they tend to be dark. Painting the door black doesn't help to brighten things up.
After: Warm Welcome
A few coats of fuchsia paint take this formerly ho-hum front door from drab to fab. The cheery pink theme is carried to pots flanking the doorway filled with bouganinvillea and candytuft. The terracotta tile steps and board-and-batten siding also receive a makeover with fresh coats of warm, neutral paint.
Before: Well-Built but Bland
With all-brick construction, large windows and a circle drive, this home has great bones but its monochromatic color palette and uninspired landscaping could use a pick-me-up.  
After: Timeless Transformation
Before: Haunted House?
The owners of this century-old San Francisco home are parents to five kids, including two sets of twins, so yardwork and home maintenance has taken a back seat to raising their family. This home is also, not surprisingly, a hub of activity each Halloween when the owners put the Victorian's forboding looks to good use as the neighborhood haunted house.
After: High-Style Victorian
Before: '60s Modernist
The current owners were drawn to the home's Modern aesthetic and streamlined details but the ho-hum landscaping is definitely lacking. Three generations of one family live here and want to be able to use the hilly, uneven front yard as more of a gathering and entertaining space.
After: A Nod to Midcentury Mod
Before: '70s Mish-Mash
NYC techies, tired of cramped quarters, decided to relocate to Texas where everything is bigger. Browsing homes online, they discovered this split level whose newly remodeled interior had everything they were looking for and they quickly decided to buy it — without ever seeing the home in person. Once they moved, they discovered that the home's exterior was desperately in need of a remodel too.
Before: Tattered Belle
The young couple inherited this massive home from an elderly relative. Years of deferred maintenance — peeling paint and an overgrown juniper bush — have made this home the neighborhood eyesore.
Before: Reno Gone Wrong
Selected out of hundreds of submissions as America's most desperate landscape, this home outside San Diego is an embarassment not only for the homeowners but for the whole neighborhood. The yard is unlevel, full of weeds and littered with the remains of home improvement projects gone bad.
Before: Failing Fixer-Upper
The first-time homebuyers fell in love with this century-old home's potential but, bogged down by interior projects, they don't have time to tackle the front yard or porch where siding-clad supports create a dark, claustrophobic feel and aren't original to the home's Craftsman style.
After: Charming Craftsman