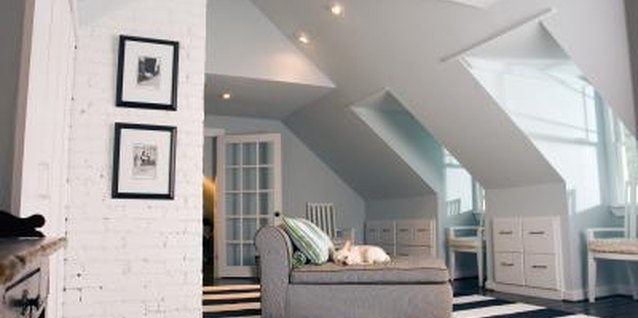 Design Tips for Vaulted Ceiling Living Rooms
A living room with a vaulted ceiling is a design challenge. If you don't decorate
A living room with a vaulted ceiling is a design challenge. If you don't decorate according to its height, everything seems disproportionate. Play it up or play it down to create a space that is airy and visually comfortable for socializing with family and guests.
Trick Walls
Vaulted ceilings often seem like a looming extension of the walls. Trick the eye or bring the focus back down to standard ceiling height by installing wide crown molding around the room at 8 or 9 feet from the floor. To create a cozier area for socializing and to make the room's contents appear more proportionate, paint the walls above the molding and the ceiling in a warm hue such as burnt orange or ruby red, then paint the molding and lower walls a pale neutral tone such as off-white or light gray. If you prefer a subtler look, paint the walls and ceiling pale cool blue or green, and paint the molding white.
Window of Opportunity
Window treatments hung high maximize a room's height but on a two-story wall, the look is extreme even for the living room. If you have molding at average ceiling height and prefer a toned-down style, hang drapery from that point. Even if the window extends higher, the top of the fabric creates definition or the idea of a lower wall. If you're after vivid style, hang lightweight curtain panels with wide, 6-inch pleats to the ceiling, but choose a color that's similar to the wall color, unless you want the drapery to be the room's focal point.
Furniture That Fits
High-back sofas, wing-back chairs and tall bookcases visually fit living rooms with vaulted ceilings. Floor-to-ceiling built-in shelving offers a custom touch. Take a stone wall that backs a fireplace to the top of the wall for drama. Even if the room has molding where a typical ceiling would start, some features should celebrate your ceiling's vaulted glory.
Higher Expectations for Accessorizing
An attractive chandelier, a large, lighted ceiling fan or a grouping of pendant lights hanging over the living room coffee table or sitting area — at slightly lower than average ceiling height — consumes some overhead space. And just because your walls extend 10, 15 or 20 feet high or so doesn't mean you should hang wall art higher than normal. Hang artwork at eye level as you would in any space, but don't go with a tiny piece here and there: Use tall, wide, substantial pictures with ornate or wide frames. Use the same theory when choosing floor lamps, potted and hanging plants or other accessories; a few dominant items stand up to the room and will not seem lost or out of place.