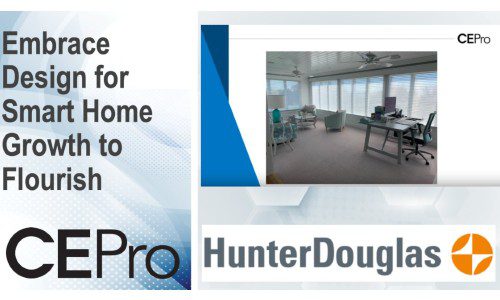 Embrace Design for Smart Home Growth to Flourish
Design and technology are fully intertwined today, and it is imperative that integrators embrace design
Design and technology are fully intertwined today, and it is imperative that integrators embrace design trends to help push their businesses forward.
That's the main message from Hunter Douglas, one of the most well-known brands in the window treatment space. In the past few years, Hunter Douglas has taken its name-brand recognition to the custom integration channel with motorized shade options.
"The pandemic has ushered a wave of changes in technology and home industries," says Scott Stephenson, Director of Product Management, Motorization, Hunter Douglas. "More time spent at home is pushing families to rethink their spaces and seek professionals for improvement projects, renovations, and expansions, according to Houzz. Among new furniture, paint colors, etc., dealers must accommodate design consciousness for the technology upgrades homeowners need such as networking, comfort and entertainment experiences."
He continues, "Design and technology have increasingly become intertwined, causing changes and growth in the automated shading category. Where dealers have considered the technology first, for example, assessing platforms that offer wired and wireless power options and work with any smart home system like PowerView Automation, design options were on the backburner.
"While limited size, style, and fabric options suited early smart home enthusiasts, homeowners will increasingly reject "greige" boardroom shades in their home, seeking the same design options that they're offered from the design industry."
Stephenson sees motorized window treatments as a key design intersection for integration companies and design professionals to work together.
"The potential of the smart shade category is enabled when integrators can deliver the customization and beauty that homeowners expect for window treatments. Dealers will need to weigh design equally with tech specs to expand their customer base with more shade styles, such as honeycomb shades, roman shades, privacy sheers, shutters and more. Other benefits such as training, Hunter Douglas Installation Services for support in measuring and shade mounting, and a catalog of beautiful shades can support category growth as well," he notes.
Embracing design and technology cohesion puts dealers on the path to grow and scale their business using this new category demand, according to Stephenson.