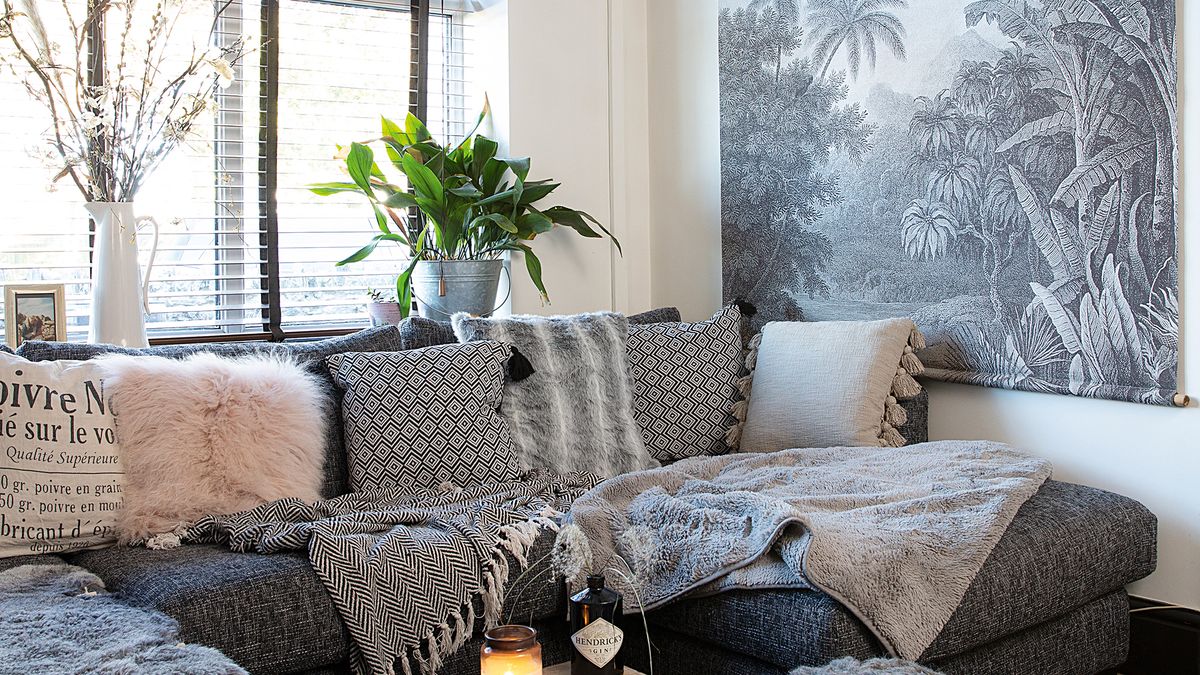 Grey living room ideas: gorgeous ways to use grey
On the hunt for some gorgeous grey living room ideas? Well, you are in the
On the hunt for some gorgeous grey living room ideas? Well, you are in the right place because grey just happens to be our fave colour to decorate our homes with, as well as everyone else's it seems.
Whether you are a lover of cool-toned greys that work amazingly in minimal Scandi-style interiors or you are embracing the dark side with a deep charcoal grey to create an enveloping cosy living room, we've covered all the different shades and how to style them…
Looking for more living room ideas? Don't miss our hub page. 
1. Layer up different grey tones
Use just one shade of grey and your room can feel flat and dull so it's important to layer the shades, one on top of the other. Start with a base layer, a grey that really inspires you, and add different shades through furniture, soft furnishings and accessories. 
This John Lewis Croft sofa is deep and dark and works well against the backdrop of dark wall and cooler grey living room flooring. The grey throws and grey cushions in add texture too.
2. Get the lighting right in a grey living room 
Grey is one of those colours that can completely change under different lights, so picking the perfect lighting for your space is important. As a general rule, the cooler the tone you choose, the warmer the lighting should be – think about the room at night, you'll still want it to feel cosy and welcoming despite the cool grey colour scheme. Pick out lamp shades that give of a yellowish glow and always go for warm/soft white bulbs. 
Pick out different sources of light too. As with any living room, you'll want to think about having a few different sources that all do different jobs. Typically you'll want to cover ambient lighting (soft lighting usually from a pendant or wall lights), task lighting (stronger, focused lights) and accent lighting (soft, but still focused lights that highlight certain areas of your room). 
For more tips on living room lighting, head to our guide. 
3. Choose grey living room furniture 
Don't limit your love affair with grey to just wall colour, if you love this hue consider new furniture pieces in this shade to add a modern edge to your living room. Storage units are a great way to add in grey, and particularly good when you don't want wood or white melamine. 
This bookcase from Cuckcooland also has a fold down desk making it perfect for a small home office in your living room. 
Check out more living room storage ideas. 
There's nothing so glamorous as some beautiful gold accessories which, of course, pair well with a base palette of greys. Use different grey shades layered throughout the living room for your neutral backdrop, retaining the focus on the metallics and any other colour you choose to introduce. Keep it soft or add bold, bright accents; just ensure they don't detract from the shine and sparkle of your metals. 
Olivia, Blogger at Lust Living, has the most stunning living room pairing Cloud Burst from Crown Paints on the walls with some beautiful gold metallics. Gold coffee table is West Elm.
5. Create the perfect backdrop with grey living room walls
With its charm and appeal lying in the ability to offer the best neutral base for interior décor, grey is the ideal shade with which to decorate your living room walls. Using a grey wallpaper or paint won't intrude on the brighter accent colours if you use them; darker greys give them depth; paler greys help them to pop. 
Check out more of our favourite paint colour schemes for living rooms if you are still in need of inspiration. 
6. Warm things up with greige 
We will confess, we have previously mocked greige and what we liked to think of as its blandness, but alas, we have grown to love this neither grey nor brown nor beige colour and think we owe it an apology. So, sorry greige. 
It's actually a perfect warm toned colour that was made for living rooms! We love how it's been styled in this living room with splashes of sage green and pale mustard yellow. So what is the perfect greige shade? Well we recommend Farrow and Ball Stony Ground.  
7. Try a monochrome colour scheme in a living room
Black and white doesn't have to be a boring combination – when teamed with different layers of grey, it can look exceptionally striking. Use a deep grey on your living room walls, and then mix in plenty of  black and white accessories to get the full impact of this dramatic scheme. 
8. Choose a simple (but chic) grey sofa
We all love on-trend colourful sofas but sometimes we want to keep it simple and uncomplicated. That's where a grey sofa really comes into its own. It suits all styles of living room, from country cottage to industrial to contemporary, and anything in between. Give it some life and add a few strong accent colours or simply layer your greys for a more monotone feel. 
Need some help finding your perfect sofa, grey or otherwise? We've put together the ultimate guide to choosing a sofa. 
9. Add drama with a dark grey living room 
If you're not one to shy away from being bold and daring, then go for a dark grey scheme in your living room. Painted on the walls and even the ceiling too it can act as a striking basis for bright colours and rock and roll décor. You'll need to get your living room lighting right to make the space useable at night, but these darker charcoals make a room feel exceptionally moody and atmospheric. 
Love this look? Check our more of these dark and atmospheric decorating ideas. 
10. Counteract cool tones with mustard
Greens and botanical prints work effortlessly with grey tones as shown here in this bright, light, grey and yellow living room. The homeowner has paired a subtle shade of grey with golds and greens allowing the features to shine, with a bold print that doesn't impinge on the lighter feel of the space. 
Kimberly, from blog Swoon Worthy has used Dulux Dusted Moss 2 on the walls and accented the space with a yellow tub chair by Oliver Bonas and a gold sunburst mirror from eBay.
We have loads more green living room decorating ideas if you are after more inspiration. 
11. Mix soft grey with pretty pastels
Use soft warm greys and mix them with pastels for a pretty colour living room scheme. Prevent it from feeling too sweet and sugary by accenting with darker, moodier shades seen here with black and white cushions and dark wood table. The result is a calm living room suitable for the whole family. 
Blogger, Arianna, has created a sumptuous, cosy space packed full of texture and warmth. The wool throw is from The Future Kept; art work from Desenio; and a selection of cushions including pretty pink ones.
If you love the look of this pink and grey living room, go and have a look at these pastel decorating ideas for more ways to work candy hues into your home. 
12. Make dark grey feel warm and cosy
If you opt for a darker, charcoal grey on your walls yet don't want the living room to feel all doom and gloom, lighten the space by using white based art work. Include pops of colour through your soft furnishings and make the most of your cosy feel by adding layers of sheepskins for warmth and texture. 
13. Add texture to a grey living room for an on-trend look
Palest greys and darkest blacks come together with stark whites to create the nomad look which has become rather popular in the last few seasons. Mix up your greys with a black and white pattern in shaggy textures. Add some natural materials like rattan and wicker plus lots of house plants, and you have a very on-trend living space. 
The Kilim chair is the perfect monochrome piece in this look from Maisons du Monde. Add berber cushions, a grey and white chair plus a grey berber rug to complete the look. 
Love the vibes of this living room? Go and get some more inspiration from these brilliantly boho design ideas. 
14. Don't ignore the floor, pick out a grey rug
When you're not sure how to start designing  a grey living room, look down. The floor is often the best place to begin when you're building a scheme and if you want to include grey, this is a great kicking off point. Pick a larger grey rug as a centre piece or layer up your rugs for a more laid back, relaxed look. 
15. Want a more luxurious grey living room idea? Add marble
Marble isn't particularly revolutionary when it comes to home decor, we know, it's pretty much an essential in the age of Pinterest and Instagram. But there is a reason we all so in love with is swirly, opulent, qualities, marble just brings elegance into a space like no other material. Give a grey living room a lift with a few pale marble accessories, the smooth finish works perfectly with lots of different shades of grey. 
16. Set a cool tone in your grey living room  
Due to its versatility and fashionable standing in the interiors world, grey must be one of the easiest shades to work with. Creating a grey living room which feels cool and crisp is easy when you use a piece like a darker grey rug to anchor the space. When you feel like a change in accent colour, no need to invest in a new rug every time, the neutral shade always works. 
But… just in case you do fancy investing in a new grey rug, check out our pick of the best rugs for your living room. 
17. Choose multi-functional grey furniture 
If you are as obsessed with grey as we are (and since you have made it to point 16 of a grey living room ideas feature we are going to assume you are), chances are you might not want to limit grey to your living room. So when choosing furniture, pick pieces that are versatile and can be put to use through the rest of your home too. Storage benches, day beds, grey sofa beds, grey ottomans, you get the idea, any pieces that can be shifted into a spare bedroom or a hallway. 
Love this look? Head over to our grey hallway ideas for plenty more inspiration. 
18. Add interest to a grey living room with a mural 
Before we go on to talk about the many positive points of adding prints and murals to a grey living room, can we just appreciate the artful layering in this living room?That's how it's done, people! 
Anyway, yes, murals – a great way to add even more texture to a living room with a limited colour palette. They are also a fab option if you are decorating a rented home, because you can choose to hang a mural rather than paste it permanently to your wall.
In this small grey living room, the use of a mural also expands the space as it stops an expanse of white wall making the room feel boxy. 
For more wall mural ideas, check out our feature. Find more small living room ideas in our design gallery, too.
19. Go for a coastal vibe with a light grey living room
You might live nowhere near the beach but that doesn't mean you can't bring some of those coastal vibes into your living room. Coastal interiors aren't all about blue stripes and miniature ships in bottles. You can create a beach house-inspired interior using light greys and lots of layers of different fabrics and materials. Rugs, cushions, baskets, wall hangings can all be incorporated into your current space to create that relaxed, laid back feel that the coastal look is all about. For more beach house interior inspiration go and check out our gallery of ideas. 
20. Choose a cool green toned grey for a contemporary look
We love the modern vibe of this grey living room and the greeny tones would work perfectly if you had a sunny, south-facing room that can take a moody shade. To copy the look, choose a grey paint with cooler tones (something like Farrow & Ball's French Gray) and, to further enhance the cool colour, pair it with darker tones and furniture that has clear, sharp black lines. You can add in some warmth with throws, cushions and rugs. 
21. Highlight alcoves with grey paint
Use grey paint to highlight alcoves in a living room: it's a neat trick for creating depth in the room, showing off artwork hung on the darker walls and exaggerating the height of the ceiling in the room. Light the alcoves with wall or table lamps so that the grey becomes a warmer tone at night. Room and furnishings designed by Neptune.
22. Mix grey with the colour of the year 
And when we say 'the colour of the year', we are talking about the colour of the year: Dulux's Colour of the Year 2020. It's called Tranquil Dawn and, throwing no shade at the colours of the last few years, but we are loving how fresh this year's choice is! It's a gorgeous super pale sage green and conveniently it looks great with grey! 
Pick a cooler toned grey to mix with Tranquil Dawn, something like Dulux's Polished Pebble would work as a corresponding paint. When it comes to furnishings, go with darker greys and light woods to give all those pale colours a modern edge. 
23. Pick a dramatic grey wallpaper 
Get an instant, easy dose of grey by putting up some grey wallpaper. Most of the time you will be able to find a shade of grey that will work with your current scheme, so it can be the simplest way to update your space. We love the dramatic effect of the Midnatt wallpaper from Sandberg, but make sure you head over to our grey wallpaper feature for loads more ideas and inspiration. 
24. Go for a moody vibe with inky greys 
Bluey grey is the grey of 2020. It's moody, atmospheric and dramatic but styled the right way is can be really soft and welcoming too. Mix it in with some natural materials and lots of textures for a really cool contemporary look. 
25. Mix grey with slubby naturals
Grey could feel a little cold, but if you mix it with rich textures: knotty, warm-coloured wood, slubby linens, stroke-able velvet, you'll create a warm, welcoming feel. Loving how the sofa is colour-matched to the walls here for a space-enhancing feel.
Read more: