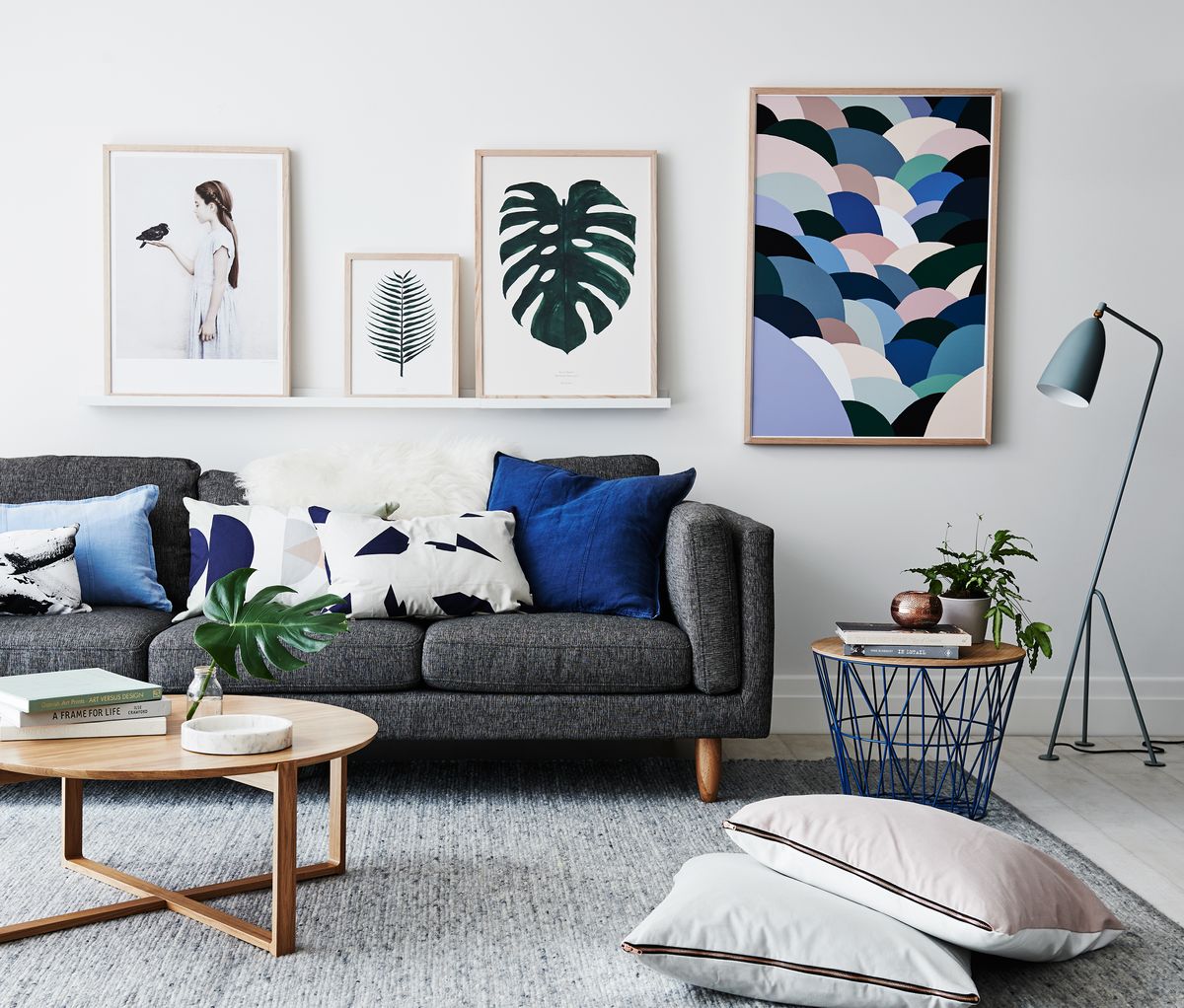 How to design a living room
Want to know how to design a living room so that you get it right
Want to know how to design a living room so that you get it right first time? Doing so can be a challenge if you're starting with an empty room – perhaps you've just moved house or are doing a thorough renovation. 
In this guide, we take you through everything from paint colours to layouts to flooring so that you can make the right choices, whatever the size of your living room, whatever its shape and whatever its orientation. 
Done here? Find more living room design advice, storage ideas and buys on our dedicated hub page.
Where to place the furniture?
It might be that you have a small living room with little flexibility for furniture positions, but there's no denying that most of us, whatever the size of our spaces, design living room layouts around one thing: the TV. But while turning your living room into a home cinema room may be great for Friday night Richard Curtis marathons, it's not always the most efficient – and certainly not always the most attractive – way to arrange your furniture. 
If you have the space, and particularly in through living rooms, arrange furniture to create purposeful zones. Sure, have a sofa that is just for TV worshippers, but also create a defined reading space by putting an armchair next to a window or table lamp; assign a dedicated work space to a corner with a console table, desk or home office hidden in a cupboard; or separate a children's play space from the rest of the room with open shelving. 
Consider, too, what you really need in your living room, and what you can live without. At the very least, you'll need enough seating, side and/or coffee tables, a TV unit, storage for everything from gaming equipment to toys to books. If this is starting to over-load the room, what could go elsewhere?
Top tip: If you really don't know where to start with your living room layout, use a tape measure to size up the room. From that you can sketch out a floorplan and draw out a few different ways your furniture could fit into the room. Find out much more about where to place the living room furniture in our guide to creating the best living room layout. 
Decide on a living room style 
Once you've planned your living room's furniture placement you can move on to the fun stuff – choosing the style of your living room. It's where you will spend much of your time: in the evenings if you don't have kids, and from the afternoon onwards if you do. 
So, while the style of your living room will be largely dictated by the age of your property, its inherent architectural feature and the style of the rest of your rooms or existing living room furniture, it's got to suit your lifestyle, too. In other words, if your house if full of kids, choosing a living room filled with ornate antiques probably isn't practical and a modern living room style might be more your scene. 
Take a look at some of our living room design ideas: we have traditional living room ideas, small living room ideas and budget living room design ideas. Make a note of things you like (pin the pictures to a Pinterest board) and you'll soon notice themes occurring, which will be a good base for your room scheme. What to avoid? A style that clashes obviously with your home's age: 1930s style sits well in homes from that period onwards, but tends not to suit older properties; similarly, heavy Victoriana doesn't work in a 1970s-built house.
And while you might be tempted to stick to one style – a Mid-century modern living room – for example, don't be afraid to mix and match. Doing so will create a less constructed, more relaxed feel and, after all, it's the room you unwind in at night, so it should be a true expression of your taste. (Until you come to sell, that is, in which case, we'd advise depersonalising…)
Pick a colour scheme for your living room 
When you've nailed down your aesthetic, decide on the main colour for your living room. Think about its size and the height of its ceiling when you are making this decision. It may be interior design 101, but if you are looking for design ideas for small living rooms to make yours look larger and brighter, you will need to opt for lighter colours; or, perhaps, since you only use your living room in the evening, you'd rather it felt cosy and intimate with darker colours? 
If you are blessed with a larger living room, you can be more adventurous with colour: try experimenting with a darker decorating palette, add a striking feature wall or get creative with bold paint colours.  
Bear in mind, too, that the natural light your living room receives should affect your colour choice. North- and east-facing living room colour schemes suit rooms that get cooler light, so warmer shades of all colours, including anything from white to blue to grey, will make them feel more welcoming; equally, south- and west-facing rooms will get lots of sunlight, so you may want to choose cooler colours to keep them feeling restful.
Once you've chosen your main room colour, pick out one main accent and another one or two accent shades to use in smaller doses. This gives you the opportunity to add warmth to a neutral scheme, cool down a bright scheme, link together two ends of a long or open-plan space, and perhaps even to tie your living room colours with those of your hallway for whole-house cohesion. See all our living room colour scheme ideas below:
Wallpaper or paint for a living room?
Whether you choose a wallpaper or paint colours for your living room is largely down to taste, but here's what you need to know:
Feature walls defined by wallpaper one one wall matched into a paint colour on the rest of the walls are somewhat out of fashion. Love the idea? Put the wallpaper on a more unexpected wall – behind the sofa, perhaps, instead of on the chimney breast.
Large prints will overwhelm small living rooms if on all four walls. Only consider them if one wall is taken up by a large window or French doors to provide relief; otherwise, go for a subtle design.
Small prints look more traditional than contemporary ones, and suit small spaces or country cottage living rooms.
You can use wallpaper patterns to exaggerate your room's proportions. A subtle vertical stripe can make a room feel taller; horizontal stripes make it feel wider, for example.
Paint can be used for colour blocking to create interest and is a cheaper, easier-to-update option for living room walls.
How to choose practical living room flooring 
Your living room flooring (see our guide) suffers a lot of use and abuse, so choosing the best is key. A carpet may look lovely to begin with, but light colours should be avoided in favour of darker shades, contemporary patterns or a low-pile, stain resistant carpet. Either way, it's worth knowing how to clean carpet before you have yours laid. Natural flooring, such as sisal, is another option, but these can be tricky to maintain, so opt for a rug in these materials over hard floor.
Alternatively, go for hard wearing wood or laminate flooring – you can always add cosiness and comfort with a living room rug.
And for you apartment dwellers, if you don't live on the ground floor consider adding a really thick underlay beneath your living room flooring; that way you can minimise the chance of a neighbour banging on your door when you are in the middle of a Zumba DVD. Pet owners might want to consider a carpet that is going to disguises pet hair – otherwise, invest in a vacuum cleaner specifically for pet hair.
Choose the best living room furniture
Moving on to choosing living room furniture. This is probably going to be the most pricey aspect of your living room revamp, so really think about what you do and don't need (which may mean giving up on using your coffee table as anything other than a foot rest and replacing it with an ottoman that can be used as extra seating instead). 
Start with the basics and assess what furniture your living room really can't do without – and how you might make it more versatile, with hidden storage, for example. 
Also think about how durable each piece needs to be and what's worth investing in – soft furnishings get the most wear, so get the highest quality you can within your budget or opt for removable covers that can be machine washed. 
And be sure to choose furniture that will stand the test of time, not just in a practical sense but in a style sense too. Don't go with styles, shapes, colours or patterns that will date or that you will tire of too quickly. 
Pick the perfect sofa for your space
It's easy to get caught up in colours and sofa fabric choices when choosing a sofa, but ignore the frills to begin with, focus on the more practical aspects. Start by thinking about the size and shape of your room, how many people you need to seat, where in the room the sofa will go and whether a sofa bed might be a more useful purchase; then move on to whether you need removable covers.
That done, you can consider your sofa's style, shape and colour. Most of us pick a neutral shade for the covers because it's easier to redecorate around. Our advice? Bright or boldly patterned sofas make fabulous focal points but be sure you'll love them for the long-term. As for your sofa's shape, low-backed pieces look more informal and take up less visual space than more traditional-looking, more formal high-backed sofas.
If your square footage is limited, it's also worth considering if you even need such a huge piece of furniture taking up lots of valuable space. We know it's hard to imagine your life without a three seater, reclining sofa, but dream with us here. A love seat or a more slimline sofa might be much more practical, giving you more floor space, and perhaps even room for another seating option.  See all our sofa guides below:
Consider living room storage solutions 
No matter how much you may try to prevent it, clutter is drawn to the living room, so be prepared and add plenty of living room storage. 
To save space and to cut down on unnecessary extra furniture, choose pieces that offer as much versatility as possible: coffee tables with plenty of storage shelves; TV cabinets with added drawers; and even sofas with hidden storage. Opt for living room cabinets that have both open and closed storage so you can hide stuff away, and still keep your most prized knick knacks on display.
Get the living room lighting right
Lighting your living room well is vital because we spend so much time there in the evenings. The right lighting can transform you living room into a cosy, inviting space; the wrong lighting, however, can leave your room feeling as bleak as a dentist's waiting room. 
Start think about the different zones of your living room and choose light sources accordingly: you'll need task lighting, such as a standing or table lamp over an armchair for reading; a dimmable central pendant light for those occasions when you want the room brightly lit; and plenty of accent lighting in the form of low-level table lights, picture lights and even lighting hidden within alcove shelving. 
You can use lighting to create effects, too. Uplighters on walls can make a ceiling feel taller; downlighters will make the room feel more intimate; spotlights can highlight a feature, such as large house plants you want to show off; warmly-tinted lightbulbs will make the room feel cosier; daylight-mimicking bulbs will make it feel brighter.
Find out more in our guide to how to design living room lighting, and don't miss these living room lighting ideas to make the most of your space.
Pick the best living room window dressings
Window dressings are all-important in your living room – they offer pattern, colour, a feeling of comfort, privacy, light control, insulation and, chosen well, can pull your whole room scheme together. 
What you choose will largely come down to your taste and budget. If you want to add a touch of luxury to the living room, shutters or Roman blinds layered over with lined living room curtains are a good choice. In a contemporary living room, shutters only are an easy-to co-ordinate with option that offer plenty of kerb appeal, too. Plus, if you're on a tight budget, DIY-fit options are a much more affordable option than ones that are fitted for you. Don't miss these living room window dressing ideas for inspiration.
Add personality with accessories 
We all love a clean aesthetic, but to stop your room looking like it's been picked straight from a catalogue, inject plenty of personal touches is a must-do. You can easily accessorise your soft furnishing with rugs, cushions and throws and add colour with well-displayed artwork and photos or a gallery wall. Oh and let's not forget house plants; they are a really easy way to add a splash of colour and liven up a room. Find out how to dress living room shelves to best effect, too.
Looking for more living room inspiration?