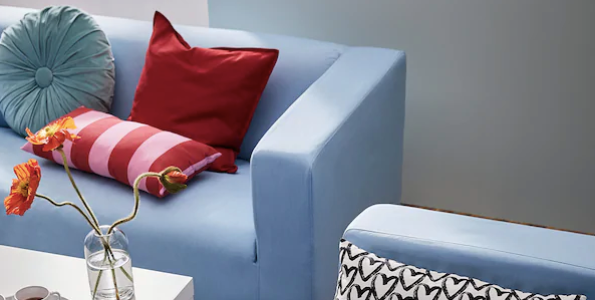 IKEA Is Selling Ready-Made Decorating Kits For Home Makeovers
IKEA is selling ready-made decorating kits to give your home a stylish makeover in an
IKEA is selling ready-made decorating kits to give your home a stylish makeover in an instant.
Each style kit contains a bundle of at least three products to transform a particular room or area of your abode. Anyone wanting a purse-friendly home decor update will love the affordable 'decorate kits', which range from hallway transformations to stylised gallery walls.
There are also kits for those keen to achieve tidy homes and, if you want to create the perfect bedroom sanctuary, there are bundles for that too.
The kits vary in price (for example, you can get an organising kit for £6 and a hallway decorating kit for £69) and they span beyond just decorating and organising. You can also get sleeping kits, cooking kits, food storage kits and even 'on the go' kits. There also a few festive kits, perfect for decking out your home this Christmas.
Browse a selection of IKEA's new kits below…
1
POLARVIDE Decorate Kit 6
Sometimes a quick little living room refresh is all you need. This kit is perfect for layering up for winter with throws and cushions.
This kit includes: 1 POLARVIDE throw, 1 DRÖMSK vase, 1 GURLI cushion cover, 1 LYKTFIBBLA cushion and 1 SARAKAJSA cushion.
2
CHIAFRÖN Decorate kit 9
Not so green-fingered? Let your home be in bloom every day of the year with these artificial plants and flowers. It's an instant touch of greenery without all the hard work.
This kit contains: 2 CHIAFRÖN plant pots, 1 FEJKA artificial succulent and 1 FEJKA artificial orchid.
3
TOFTBYN Decorate Kit 11
Transform your hallway into a welcoming space with some essentials – a classic, timeless mirror with a black bevelled edge, a sturdy hook rail and a simple wall clock.
This kit contains: 1 STURSK wall clock, 1 TOFTBYN mirror and 1 KARTOTEK rack with 5 hooks.
4
SAMLA Organise Kit 8
Store seasonal clothes (and colour-code them) in these sturdy stackable boxes with lids made of transparent plastic.
This kit contains: 3 SAMLA boxes with lid (various sizes) and 1 VESSLA storage crate with castors.
5
ÄNGSLILJA Sleeping kit 6
Give your bedroom a simple but striking refresh with pure white cotton bed linen, a deep red bedspread and a two-tone floral pattern cushion.
This kit contains: 1 ÄNGSLILJA quilt cover, 1 INDIRA bedspread and 1 EVALOUISE cushion cover.
6
IKEA 365+ Cooking Kit 1
Free up your work surface and make cooking a breeze in the kitchen with a simple hanging rail for utensils, tea towels and herbs.
This kit contains: 1 IKEA 365+ pot (5 l), 1 SANDVIVA waist apron, 1 SANDVIVA oven glove, 2 x SANDVIVA tea towels and FULLÄNDAD 5-piece kitchen utensil set.
7
FENOMEN Decorate kit 11
Are candles your thing? Set the mood and create a warm glow with this candle kit.
This kit contains: 1 ENRUM lantern, 1 FENOMEN unscented block candle (set of 5) and 1 SINNESRO candle dish (set of 3).
8
YLLEVAD Decorate Kit 2, white
Create a gallery wall display with this picture frame kit. Use several same-sized frames symmetrically, or mount frames in different sizes.
This kit contains: 1 YLLEVAD collage frame for 4 pictures and 2 YLLEVAD frames (various sizes).
9
ULLKAKTUS Decorate Kit 14
Give your living room a new look in cosy, dark grey tones with metallic accents this festive season.
This kit contains: 1 ULLKAKTUS cushion, 1 SKÄGGÖRT cushion cover, 1 ODDHILD throw, 1 DAIDAI plant pot and 1 PÄRLBAND tealight holder.
10
BERGPALM Sleeping Kit 9
Achieve a peaceful slumber with this sanctuary-themed sleeping kit. A pure cotton quilt cover and bedspread, fruit-scented candle, and a decorative watering can for your bedroom plant will help to create a zen space.
This kit contains: 1 BERGPALM quilt cover, 1 INDIRA bedspread, 1 VATTENKRASSE water can and 1 SINNLIG scented candle.
11
TJENA Decorate kit 3
Make home organisation a priority this year with stylish storage solutions. Place your possessions in blue-patterned storage boxes mixed with transparent boxes.
This kit contains: 1 TJENA storage box with lid, 1 SAMLA box with lid, and 2 FISKBO frames in light blue and light pink.
12
BERÄKNA Decorate Kit 19
Get into the festive spirit with the simplest of changes from LED candles to a Christmas garland.
This kit contains: 1 BERÄKNA bowl, 1 GODAFTON LED block candle in/out, battery, set of 3, 1 SMYCKA artificial flower and 1 SMYCKA artificial garland.
Like this article? Sign up to our newsletter to get more articles like this delivered straight to your inbox.
SIGN UP
In need of some positivity or not able to make it to the shops? Subscribe to House Beautiful magazine today and get each issue delivered directly to your door.  
This content is created and maintained by a third party, and imported onto this page to help users provide their email addresses. You may be able to find more information about this and similar content at piano.io