jingle design's bar in china celebrates beauty of raw materiality
jingle design completes xmacallan bar in china   In Shenyang, China, Jingle Design has unveiled
jingle design completes xmacallan bar in china
In Shenyang, China, Jingle Design has unveiled its new XMacallan Bar, composing a melody of classic styles and quality materials to create an intimate and immersive space beyond the hustle and bustle of city life. The cathedral-like interior of the bar celebrates the unadorned beauty of raw and natural materials, featuring wood, stone and steel in their purest forms, accentuated by soft lighting, to convey an understatedly luxurious and warm ambience. These textures complement the motif of the utilitarian oak barrels, the project's key defining visual element. Hundreds of these barrels are stacked along the walls in a repeated geometrical formation in a distinct, sculptural display that marks the enjoyment of the whiskey they produce.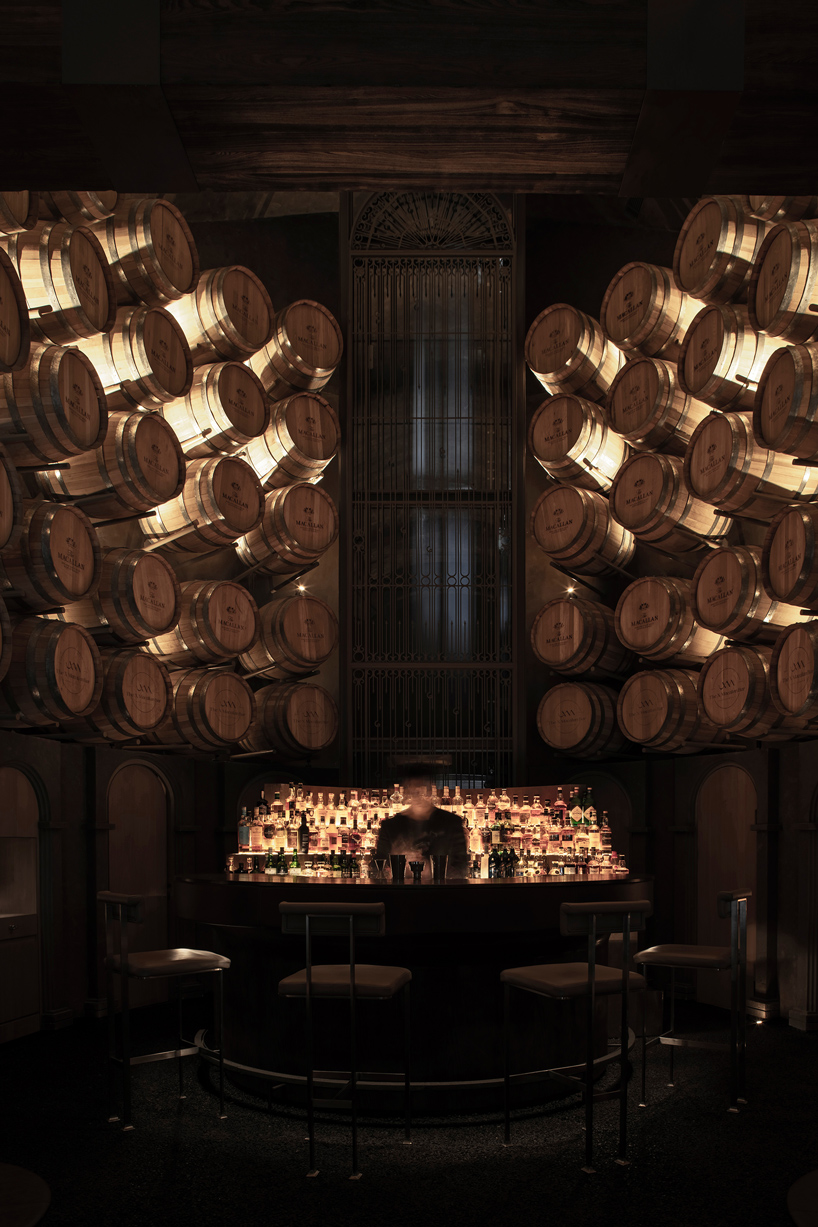 Jingle Design unveils new XMacallan Bar in Shenyang, China
all images by Topia Vision
installation of hundreds of oak barrels line the walls
'In the design for the XMacallan Bar, we wanted to endow the space with beauty but also provide practical solutions to maximize its usability and values,' notes Jingle Design. Adopting a minimalist approach and discarding redundant decoration, the Chinese interior design studio installs stacks an array of whiskey oak barrels in a repeated pattern on the walls overhead the vast cathedral-like interior space. This key design feature provides a striking aesthetic to the bar consistent with its theme and recalls a large-scale art installation. The barrels disperse light and shadow throughout the space, and provide a memorable metaphor of time and process in the making of whisky. Upon entering the space, the barrels are complemented by an array of warm, indirect light, softly illuminating the space and offering guests with an intimate and comfortable ambience to unwind. Looking down from the viewing platform on the second floor, the space's asymmetrical layout around a central axis becomes apparent. Visitors circulating in the centre of the axis animate the space, while the bar counter provides a visual and luminous focus.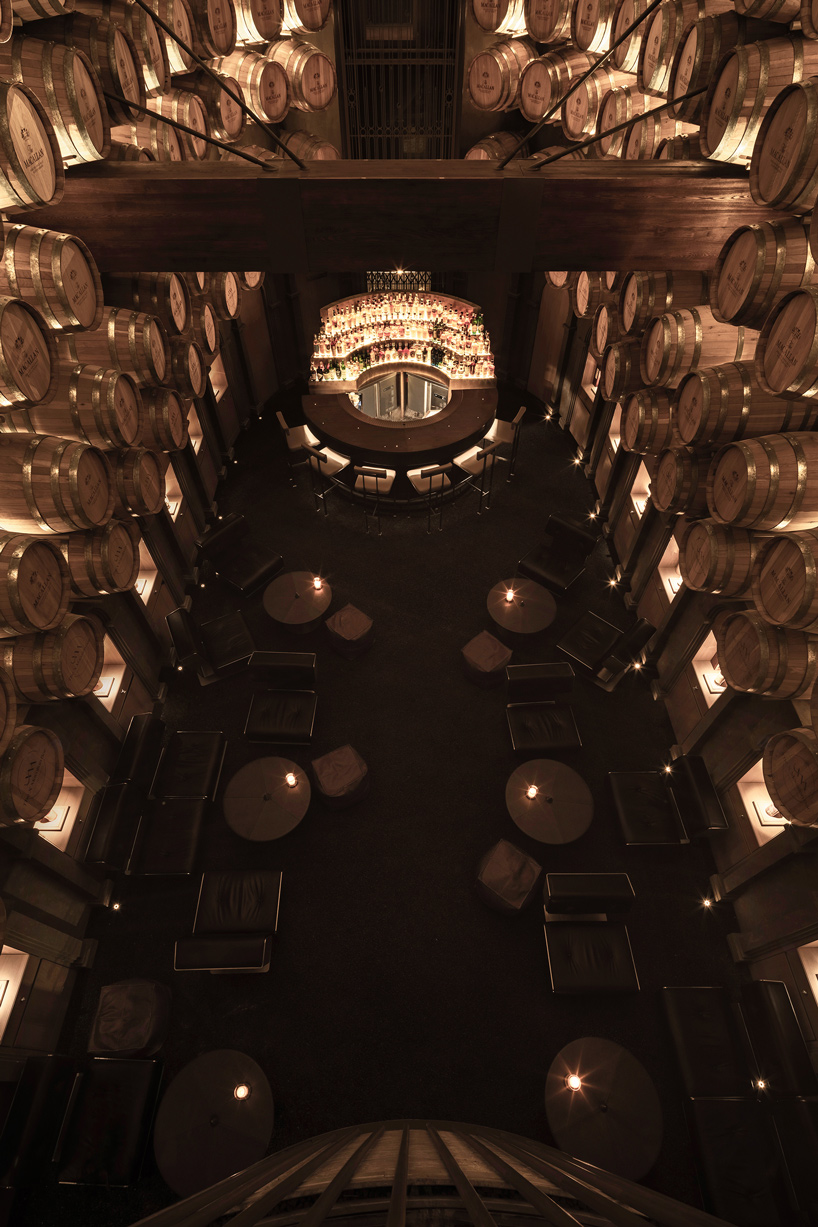 the space is arranged in an asymmetrical layout around a central axis, with the bar counter at the top
raw, pure materiality accentuated by soft lighting
Jingle Design utilizes materials in their most raw, and purest forms to emphasise the inherent natural and original qualities of the materials. As such, wood, stone and steel are all presented in a pure and unadorned manner, complementing the motif of the oak barrels. The soft, muted lighting design of XMacallan Bar emphasizes the sculptural beauty of the ceiling and stone walls, the solidity of its timber beams, and the raw materiality of the barrels themselves. In an exhibition-like display, illuminated glass cabinets interspersed on the walls provide a unified sequence and offer additional points of visual interest for visitors. Each delicate display showcases a bottle of whiskey from a different year. Leather sofas and timber panels complete the warm aesthetic, providing a respite from the stresses of the outside world.