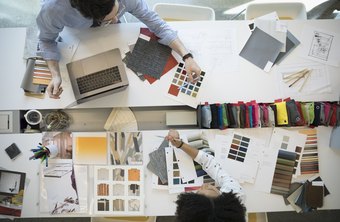 What Are the Responsibilities of an Interior Designer?
If you have a flair for design and enjoy working with people, interior design may
If you have a flair for design and enjoy working with people, interior design may be an ideal career choice. Interior designers use artistic elements to create living and working spaces that meet the needs of various clients. In contrast to an interior decorator, interior designers have specialized education in building codes, environmental sustainability, technological design and other physical design considerations. Interior decorators furnish a space, without advanced knowledge of artistic and mechanical design elements.
Job Description
Residential Design
If you specialize in residential interior design, you will work closely with clients to determine their needs and wants for a specific room, or an entire home. In some cases, you may provide design expertise for a new building project. You may also be called upon to help with a single indoor or outdoor living space. Most design projects involve meeting several times with clients, creating a design and providing furniture options, paint swatches, flooring samples and lighting choices. Your job is to work from design to completion.
Commercial Design
Similar to residential design, commercial design involves the same process, but on a larger scale. Commercial interior designers assess functionality, sustainability, client branding and business environmental factors. Designs must meet client budget and timeline parameters. In some cases, commercial designers must create a design that allows the workflow to continue during installation.
Independent Contractor
Generally, interior designers work as independent contractors. Building a portfolio and client base can be challenging for a beginning designer. Networking with local businesses and home builders is a great way to start. As an independent contractor, you are responsible for generating a client base, billing, researching sources for furniture and other design elements and all other facets of running a business.
Corporate Employee
Some interior designers work for architectural firms, home builders, home remodel showrooms or furniture stores. These positions provide an instant client base, but your salary may be highly dependent upon sales commission. If you are fortunate to land one of these positions, you can use it as a starting place to develop your own business down the line.
Education Requirements
In most cases, becoming an interior designer requires a college degree. You may choose to pursue an associate or bachelor's degree in Applied Science with a concentration in interior design. Courses include design elements, color theory, drafting skills, computer applications, business and residential design and marketing. You may also specialize in hospitality or health care design. A college education will provide in-depth knowledge and the opportunity to create a portfolio that will help you secure a job after graduation.
Industry
Median pay for an interior designer is $49,810 annually or $23.95 per hour, according to the Bureau of Labor Statistics. You can earn a higher salary as you become established in the field. Some interior designers earn commission on sales of design elements.
Years of Experience
Experienced designers develop a reputation that builds a client base. Longevity in the field also leads to the opportunity to collaborate with design vendors, contractors and other related businesses.
Job Growth Trend
Industry data project that the demand for interior designers will grow by 4 percent between 2016 and 2026. California, Texas, Florida, New York and Illinois are the best sites for finding work in this field.